Italian Cassone
Master Dafydd ap Gwystl and Terafan Greydragon created a reproduction of a 15th century Italian cassone (chest). They created the cassone to raffle off at Kingdom Twelfth Night to raise funds for the Oak, which is the Atlantian Arts and Sciences newsletter.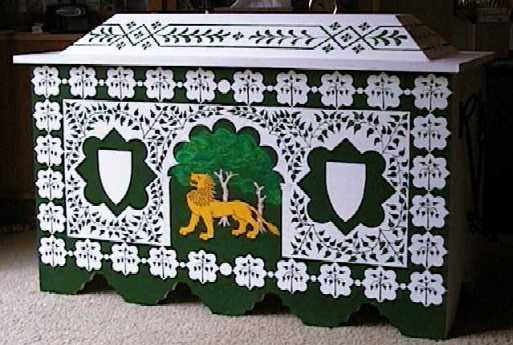 The chest is based upon a late 15th century Italian cassone in the Philadelphia Museum of Art..
Cassone in the Philadelphia Museum of Art. Late 15th century, Italian.
The hardware to carry the chest is based upon a 16th century chest. The enlarged detail at the right shows the original hardware. To see the whole chest, click the image at the right.
16th century chest with lifting rings to slide a pole through. Mercer, Eric, Furniture 700-1700, figure 22. (New York: Meredith Press, 1969)
Dafydd and Terafan created the chest with a three-fold purpose in mind, and therefore three separate storage compartments..
A useful cooler that holds 2 liter soda bottles and larger, and that won't leak.
A place for dry storage of food and similar items
A small (hidden) storage compartment in the lid for flat things like papers, scrolls, medallions, and other small items.
Here are some photos during the construction stage of the chest. These photos show the pictures show the UNFINISHED chest -- some painting and construction still remain before it is finished. We hope to bring you additional photos as the chest nears completion.
For greater detail, click on the thumbnail to see the large photo.

The chest
End of the chest showing the hardware
Terafan working on the lid. You can see the two interior chest compartments in the background.

Detail of the lion on the front
The box with a pole in the carrying configuration

Detail of one end of the box

Dafydd painting the "other" end

Detail of the "other" end of the box
Tickets for the raffle were $5 each, and 100% of the proceeds were donated to the Oak, for its production. Dafydd and Terafan donated their time and materials. The raffle raised over $1300 for the Oak.