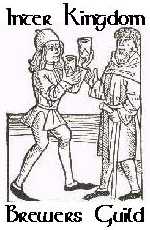 Welcome to the Inter Kingdom Brewers Guild database
---
From this page you can select from a variety of methods to query the IKBG database. You can check for everyone who has a particular status, or check for all the competitions a particular individual has entered or see all the results from a particular competition. You can query by event, kingdom, SCA name, or modern name. If you query on Modern Name, you will NOT see any SCA name information. Queries on SCA name will indicate whether or not we have a modern name for that individual on file, so that our records can be updated and/or corrected. here. If needed, you can find information on the IKBG judging standards and critera here.
The following queries are available:

Status

Query for everyone of a particular status, or view the status of all the competitors.
Competitions

See the results from competitions.
SCA Name

This query can be used to find a certain person by their SCA name. Also allows searches for previous SCA names, and will indicate whether or not the modern name of the person in on file
Modern Name

This query can be used to find the awards that a person has received by their modern name. (SCA name information will NOT be provided from this query. SCA policy prevents us from associating SCA Name with Modern name, without express permission.)


Submit a correction
Complete the form to submit corrections or updates to the IKBG Grand Guildmaster.

Frequently Asked
Questions
This FAQ is meant to answer some of the more common questions about the IKBG
Login
This is for IKBG database administrators to update the database.
---

IKBG Home | Database | Database FAQ | Judging Forms | General Info